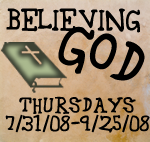 Hello to my bloggie friends and family.
I am going to start participating in a Beth Moore study called, Believing God. It will be an on-line study. How fun is that! Linda, over at
2nd cup of coffee
; and Diane at
Meyers on the hood
, have invited anyone who was interested to join in on the study. They will post about it each Thursday and we can add what we've gleaned, as well.
Sounds like a great opportunity to grow in the Lord and in friendships from the convenience of our own homes!
If you are interested in joining us, please click on
this link
and sign up.
Each week you will go to the Beth Moore site to watch the video, then download some homework papers and then stop by and leave your comments on what you've learned. Sounds like fun! You can also go to Linda's site (
click here
) and copy the button if you have your own blogspot.
I hope you are interested in growing in the Lord with us this summer!