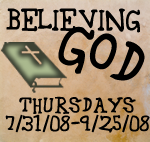 This is so much better than I could have ever imagined. Ladies, if you have not yet done this study, DO IT! If you feel God's calling on your life in any way at all, DO THIS STUDY. I am simply in awe at how much meat is in this on-line study!
For week one, it really is about one thing: We had to write out a pledge of faith, memorize it and say it often. Here it is:
1) God is who He says He is.
2) God can do what He says He can do.
3) I am who God says I am.
4) I can do all things through Christ.
5) God's word is alive and active in me.
We hold up our fingers one at a time as we say each one.
Seems easy enough, and at first quote I thought, I believe this. But then the clincher. She challenges us to step up our level of sanctification over the next nine weeks.
It just so happened that God was dealing with me in an area where I've fallen short for as long as I can remember. So I knew in my heart that this was the area I should be committed to step up in.
The first thing I began to say was, "I can't do it, I've tried so many times before" But the Holy Spirit stopped me and I looked at finger number 4 on my hand and instead I said, "I can do all things through Christ!"
If you quote these five things often then you will begin to believe them.
This is going to be an exciting nine weeks ladies! I'll be posting each Thursday, so be sure and check in. If you want to start the study it's not too late. Just go to the
lifeway site
to sign up. It's not too late.
Also, if you want to read what others on-line are saying than go to
Diane's blog
and check out the comments. :) God Bless you all.