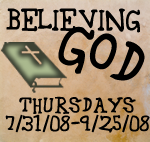 Can God do what He says He can do?
I started off by saying, "of course He can!". As the study has progressed this week, I'm finding myself a little ashamed because it is really digging up some unbelief in my heart, OUCH! This study is really cleaning house in my spiritual life.
Beth splits the churches today into two basic categories: Those who say there are no miracles happening today, and those who say its all about the miracles.
Interestingly, both of these views are sinful! If you don't believe there are miracles anymore than you aren't having any faith. Conversely, if you believe there must always be signs and wonders you are called, adulterous and wicked! That last one really threw me! If you want to look up some scriptures I'll list a few.
Heb. 11:1, 1Peter 1:21, Romans 4:8, and 1Cor. 13:13.
The reason why we shouldn't always
need
miracles is because we begin to focus on what He can do for us, instead of focusing on who He is. It makes sense, I'd just not thought of it that way before. I was raised in big faith churches and I fear many of them fall into the second category.
Here is a phrase that I really liked:
We don't know if He will, but we must believe that He can.
That's one I'll keep on the forefront of my mind as I move foreword.
Beth goes on to point out that we tend to base our beliefs on what we
see
happening to others. This is not how we are supposed to base faith! We should be so saturated with the Word of God that we believe what God says about a situation.
There are so many good truths that I've learned this week. I think I'd need to post every day to cover it all. I am going to sum this one up here:
She talks about the difference between the old testament covenant and the new testament covenant. The new testament covenant is written on our hearts, not a tablet. God's number one priority is to work a good work in our own hearts, the inner man, not the outer man. He can and will still perform outward miracles, but He will only do so if it will benefit our inner man.
My sweet friends, let us not get caught in this circle of unbelief:
We believe little because we see little and we see little because we believe little.
Let's get into the word of God and saturate ourselves with it to the point of believing God can do what He says He can do!