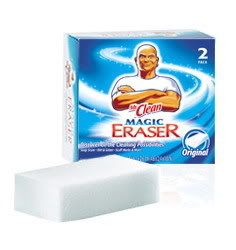 Do you remember how easy it was to correct your work when you were in grade school? We wrote exclusively in pencil, and voila! If we messed up, we'd grab those big eraser's and before long we had a blank page to work with again.
Now I'm 43 and finding the pages of my life are written in permanent marker, not pencil. My past mistakes seem to creep up when I least expect them. Please pass the eraser.
My bathrooms need the most scrubbing power on cleaning day. They've invented this handy little all-purpose eraser (see picture above) that works wonders on the toughest bathroom stains. Could I try this on the stains of my past? Pass the eraser, please.
Is there an eraser that is big enough, or strong enough to erase the past mistakes I've made? No. But God showed me this verse in His instruction book:
"As far as the east is from the west, so far has He removed our transgressions from us." Psalms 103:12 (NIV)
While my past may still bear occasional consequences, and it's presence is sometimes felt, I don't need to hold onto any guilt. The blood of Jesus has cleansed me of all unrighteousness. Jesus stands at the door to our hearts, and He alone holds the magic eraser capable of erasing our pasts.